The School Council
The School Council comprises of two representatives from each class in Years 1 to 6 who are elected by the pupils in their class. It is the Council's role to be the voice of the pupils; representing their friends and peers at school and helping to bring about positive change within the school environment. They meet with staff on a weekly basis, representing the views and concerns of other pupils, coming up with ideas to help improve the school and also organising charity and fund-raising events. Previously they have chosen and ordered equipment for the playground, interviewed staff applying for positions both at this school and other schools in the area and have arranged events and activities to raise money for charities such as Children In Need and the World Wildlife Fund.
This year's Council are Macie and Alex from Year 1, Edea and Tennyson from Year 2, Stanley and Poppy from Year 3, Marcy and George from Year 4, Lucy and Toby from Year 5 and Ellie and Thomas from Year 6.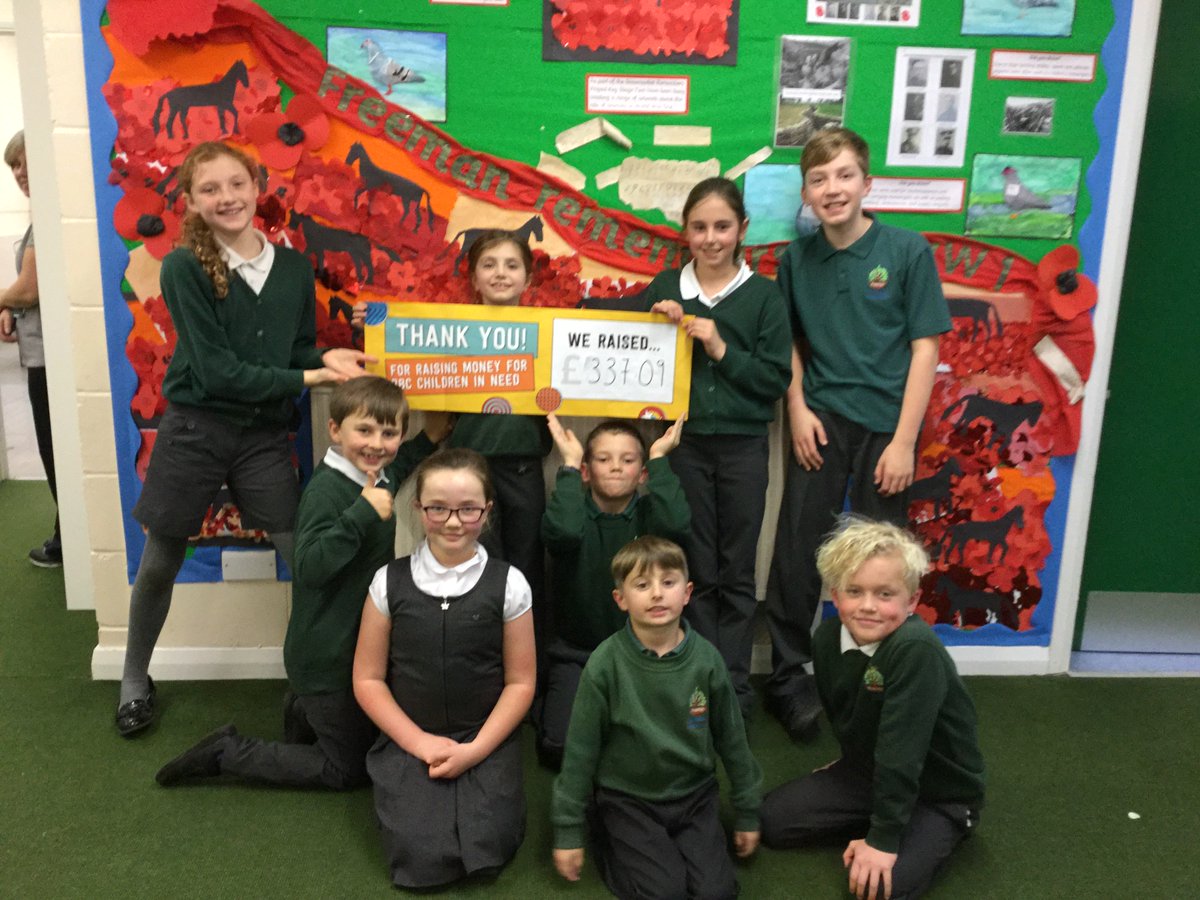 The School Council celebrating raising a record breaking amount for Children In Need.
Minutes from Meeting on 18th January 2019
(all School Councillors present at meeting)
TOPICS DISCUSSED –
Playground rules
Suggestions from Class Ideas Box (years 3 & 4)
Decisions made/actions taken
We had a quick update meeting on suggested ideas for our new school playground rules. No further suggestions had been made by pupils.
We are hoping to have a trial run for the quiet area to be more supervised with quiet only activities and to set up a Buddy Bench. We will let you know when this will commence once we have spoken to Mr Pettitt.
Class ideas from Years 3 and 4 …..
Assembly rules
Pantomimes
More visits and talks about peoples careers.
More whole school trips
Year 4 suggested that the school needed to be reminded of assembly rules! They felt that children were being a bit too chatty and silly, were not crossing their legs or listening.
Some children would like to go to the theatre and watch a pantomime rather than have the pantomime visit the school. School Council thought that perhaps this was something that each class could vote on to get a majority vote. We will keep you updated on this.
The Police Dog visit was obviously a great success as there were a lot of suggestions for more talks and visits. Firemen, Doctors and Sports professionals were some of the careers that children would like to hear more about.
Year 4 also requested more whole school trips. One idea was to go to a Football stadium or see England play. School Council thought this might be more of a high school trip but we will certainly pass this idea on to Mr Pettitt as we will with all of your other suggestions!
Thank you for your suggestions……..keep them coming!
Updates Updates Updates
Mr Pettitt agreed that we should have a trial run of the Quiet Area and the Buddy Bench starting from Monday 28th January 2019.
The Midday Supervisors will supervise the Quiet Area and help anyone sitting on the Buddy Bench find a friend to play with.
Please help us make this work and if you have any suggestions on how it can be even better please let a School Councillor know.
Thank you.
Previous Minutes