Scholastic Book Competition
In October we held a competition to tie-in with our Scholastic Book Fair asking the children to design posters of their favourite author or book. We received some fantastic posters and the winners below all won a £5 Book Token to spend at the school fair. We sold over £842 worth of books at the fair resulting in the school receiving £523 from Scholastic to spend on new books for the library. A big thank you to all parents and carers for their support.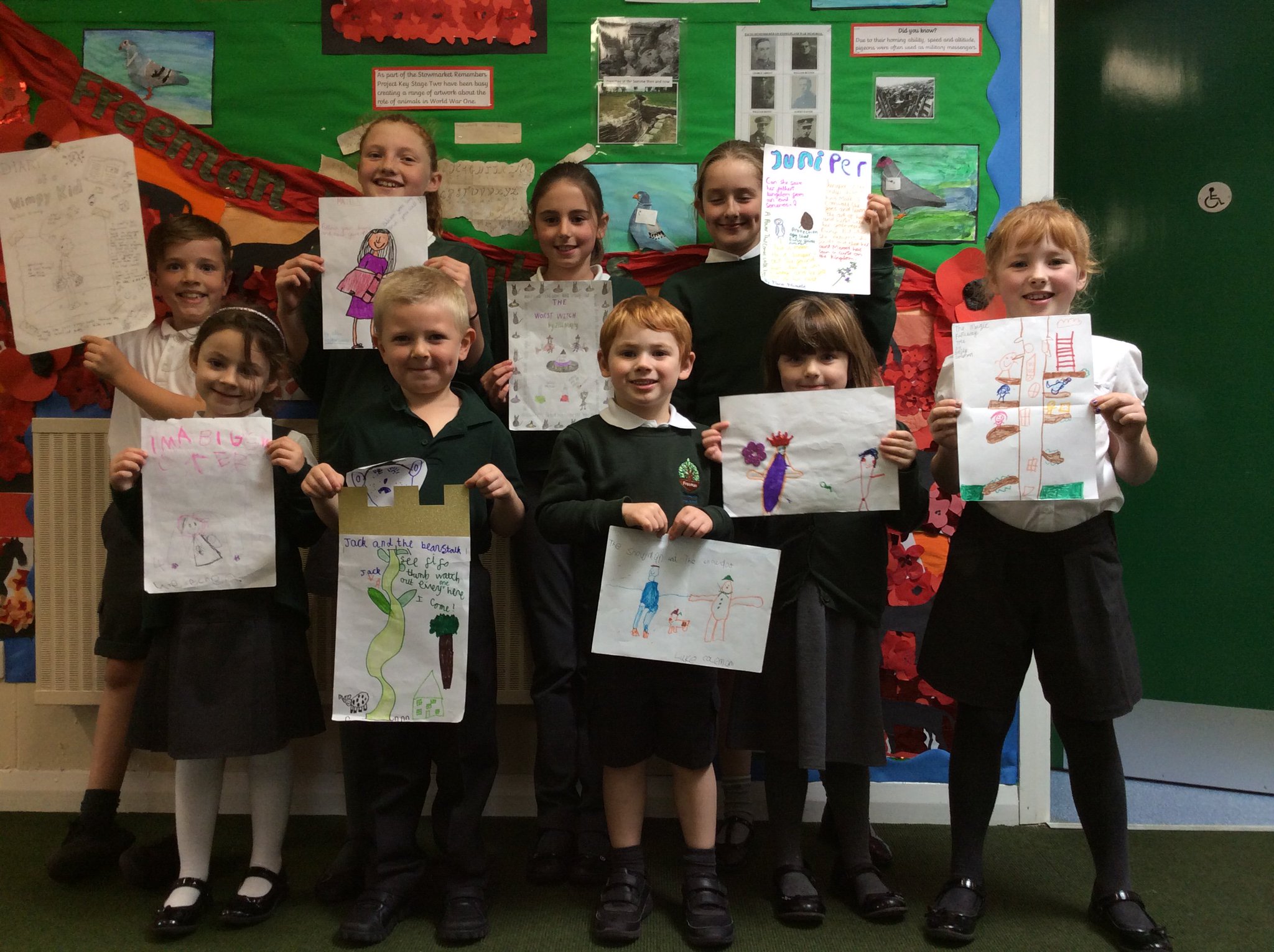 Key Stage 1 Pizza Express Trip
Years 1 & 2 went to Pizza Express this term as part of their food and farming topic. The trip followed on from work that they had been doing in class on where our food comes from and how it is grown on farms. The children loved making their own pizzas and seeing how ingredients such as flour, cheese and vegetables can be made into products we eat.
Police Dog Visit
We had a very exciting visit from Nemo and Pablo, two working Police dogs, just before Christmas. The children were given demonstrations showing the important work the dogs do including Nemo doing some tracking work on the school field. The children thoroughly enjoyed the dogs' visit and the policemen have promised to bring them back next year.
Portals to the Past
Portals to the Past visited Years 3 and 4 this term. Beech class learned all about the Stone Age and enjoyed activities such as handling various artefacts, hunting a woolly mammoth and building Stonehenge! Hazel class came to school dressed as Romans and were taught how to march as a Roman soldier, fight like gladiators and also got to try some Roman food.
Sporting Achievements
This term the Year 6 Cross Country team came 3rd in September with Harley coming 1st in the boys' competition. Harley then went onto the County finals, came 29th out of 100 boys & through to the next stage final which took place in December.
There were also various football tournaments starting with the Year 3 and 4 boys coming 3rd out of 8 schools at the Football Festival at Ixworth in October. The girls then came 5th in the Under 11s Girls Tournament at Stowmarket High School and the under 11 boys football team then came 4th at the tournament at Stowupland High School putting them through to the next round where they eventually finished 3rd overall out of 20 teams.
Well done to all of those participated and who represented the school in such a positive manner.
Year 6 Residential Trip to Bawdsey Manor
Year 6 spent the week at Bawdsey Manor, the new PGL centre in Woodbridge in October. They had a fantastic time enjoying a wide range of activites including Jacob's Ladder, aeroball (think trampolining crossed with netball!), zipwire. orienteering and abseiling!
Men's Shed Project
Twenty children with an interest in nature learnt how to build bug hotels and nesting boxes for various types of birds and bats as part of a project led by a group called 'The Men's Shed' and supported by local councillors. The aim of the project was to promote children's awareness of nature and the birds in our community and resulted in 8 amazing abodes for the lucky animals which will be installed in the school grounds and Stowupland cemetery.